BTC (Bitcoin) has been in the news a lot lately.
When it was first introduced in 2009, the price of one bitcoin was less than one yen.
In 2017, the price exceeded 2 million yen per bitcoin, attracting a lot of attention.
In 2021, the value of one bitcoin will exceed 6 million yen and its value is rising.
However, there are some people who are interested in virtual currencies but are afraid to buy them out of the blue.
However, CryptoTab, which I am about to introduce, allows you to "earn money by mining bitcoins for free.
All you have to do is to use the CryptoTab browser, just like Google Chrome or Safari.
It can be used on Windows, Mac, Android, and IOS.
People think that mining bitcoin is difficult and requires specialized knowledge and equipment, but in reality anyone can start easily.
As proof of this, even I, who have almost no knowledge of virtual currencies and only a PC and a smartphone, was able to start right away, and in "about 10 minutes" I was earning money by mining bitcoins without any cost.
I'll show you how to actually do the mining process with images, so I hope you'll read to the end and refer to it.
What is CryptoTab?
As I mentioned at the beginning of this article, CryptoTab is a browser for viewing web pages, similar to Google Chrome, Safari, and Firefox.
So you can use it on your computer or smartphone just like any other browser.
It can be used on Windows, Mac, Android, and IOS.
If you want to start Bitcoin mining in earnest, you will need an expensive specialized machine.
But, all you need for CryptoTab is a computer and a smartphone.
I've been mining on my MacBook, iphoneX, and ipad mini 5th generation.
How much money can I make?
Anyone can start mining with CryptoTab without any knowledge or expensive equipment, but the amount of money you can make is not that high.
It depends on the performance of your computer and the amount of time it is running, but the amount of money you can earn by mining for a day is about 10-50 yen worth of bitcoins.
So it's not like you can suddenly earn millions of yen, but rather, it's like saving up little by little.
However, since mining is just a matter of setting it up once and leaving it alone, it is very nice to be able to earn bitcoins automatically.
The initial amount that you can possibly earn is around 10-50 yen, but the amount you earn increases as the value of bitcoin increases.
Is it suspicious?
It seems to have been originally published in the Google Chrome Extensions Store.
There is a strict screening process in the Google Chrome extension store and it is difficult to register applications that are related to crime or fraud.
Currently, mining by extensions is not distributed by Chrome, but it is an undeniable fact that it went through a strict screening process in the past.
Furthermore, it is now also available as an application for IOS (iphone), and Apple also has the same strict screening process.
How to set up CryptoTab
Let's start with the explanation of the setting of CryptoTab.
First, go to the following link and download CryptoTab.
Scroll down a little and you will see the "DOWNLOAD" button, click to download.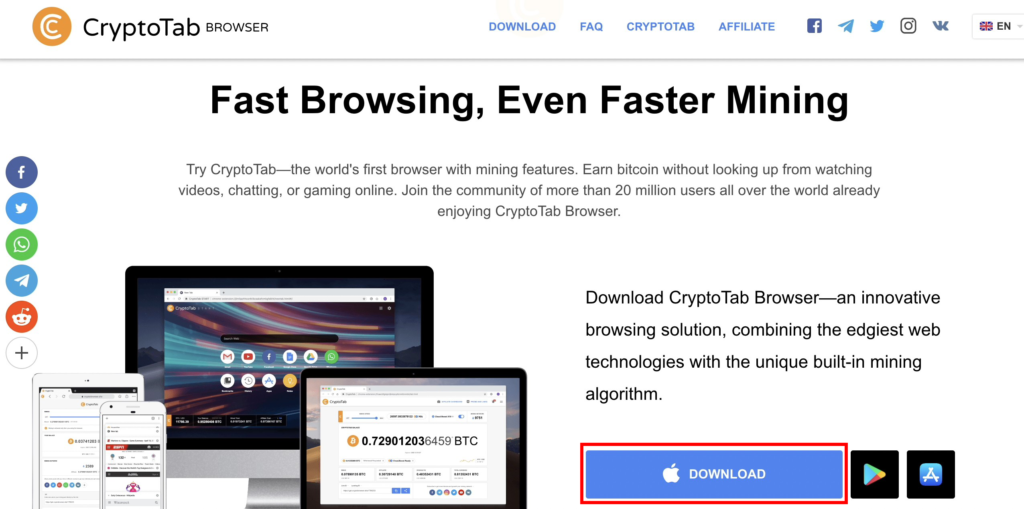 This is an image from a Macbook, but I don't think the Windows version will be any different.
A pop-up window will appear.
Click "accept and install" to continue.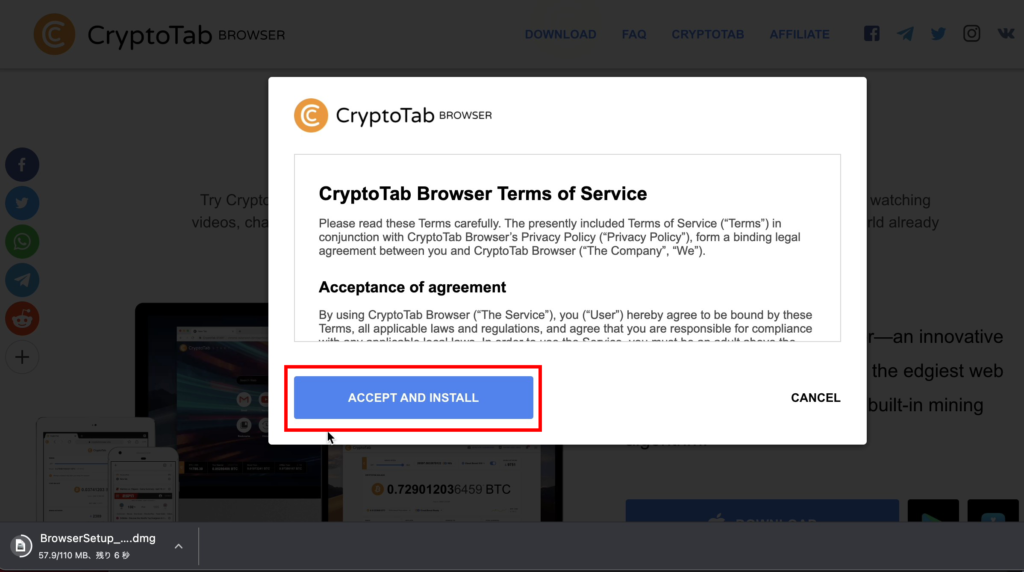 Then open the downloaded file.
After the download is complete, click on the red frame and the installation popup will appear, so please follow the instructions for Windows and Mac to complete the installation.
When you open CryptoTab, you will see a screen like the one below.
Click on NEXT.
Click "NEX" several times.
By the way, the page did not appear when I clicked on the orange arrow.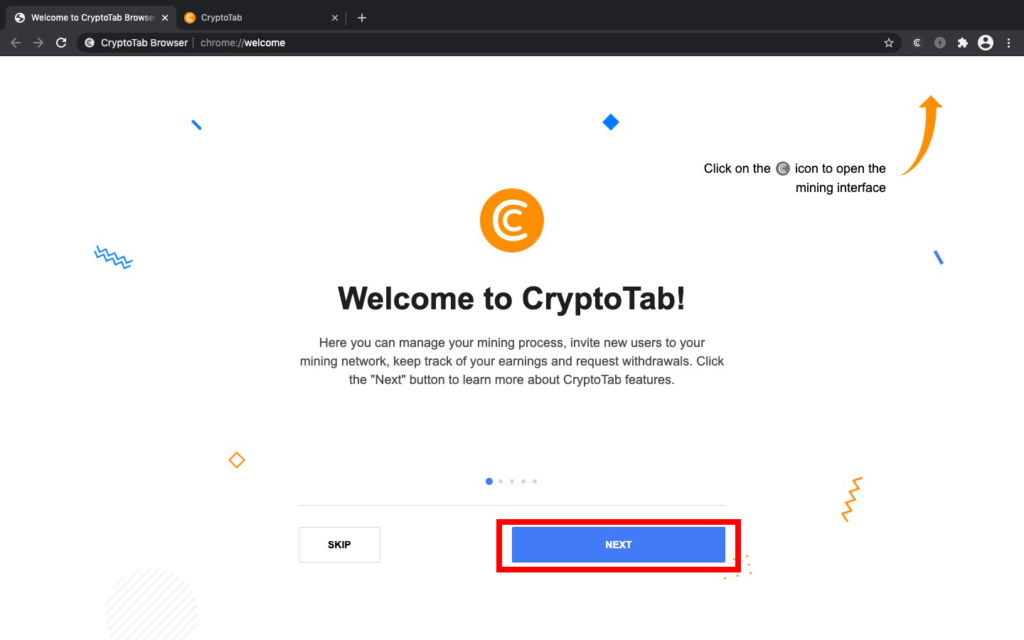 Click NEXT three or four times until you get to SIGN IN, and then click SIGN IN.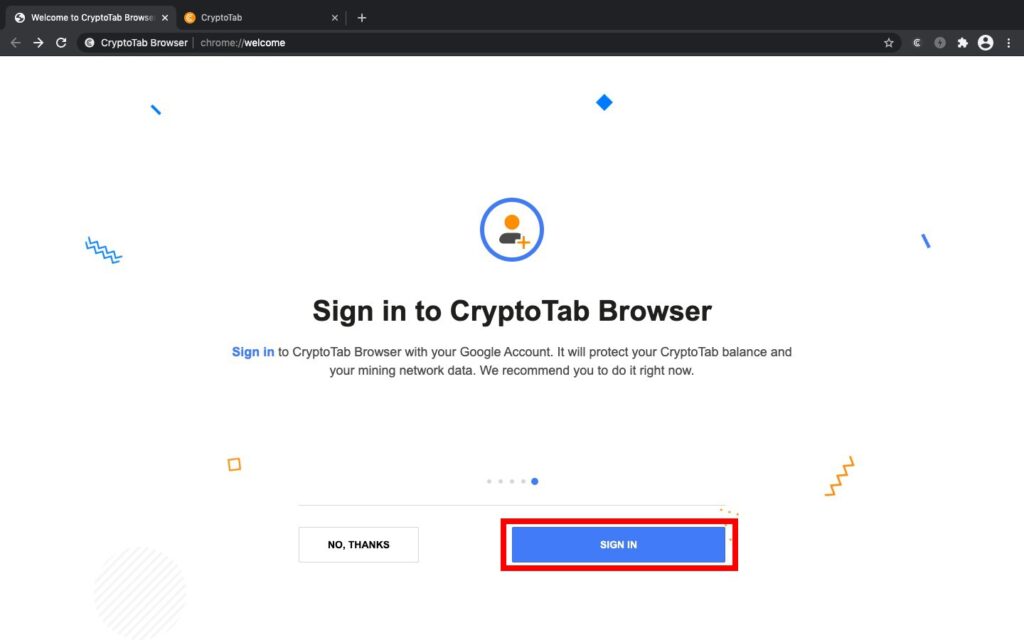 The next step is to connect your Google account.
You may want to create a Gmail account specifically for this connection.
Enter your Gmail email address.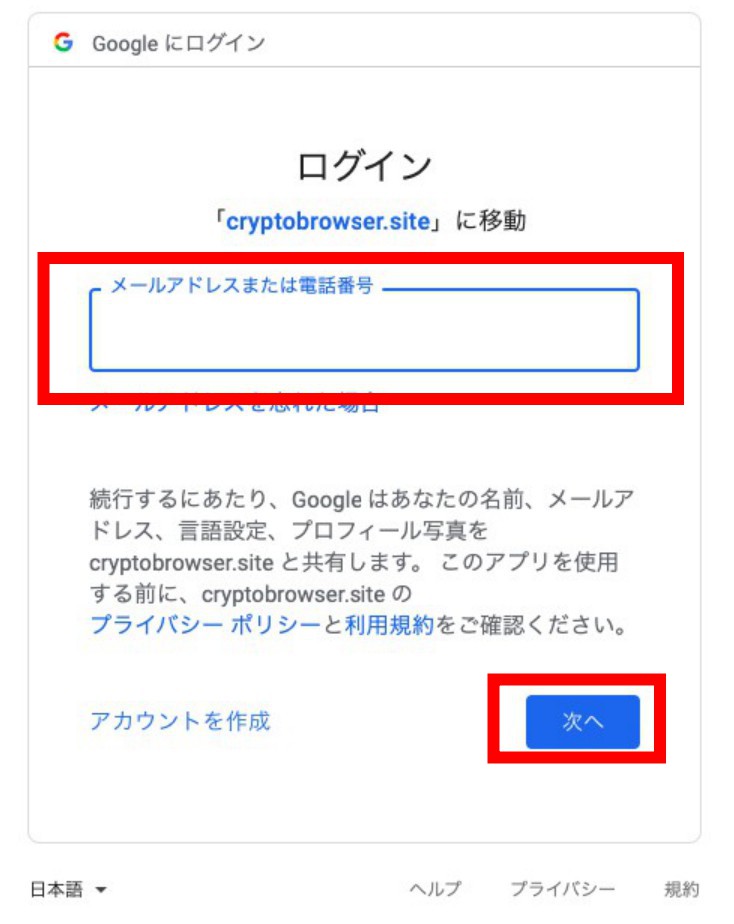 Enter the password for your Gmail account and click Next.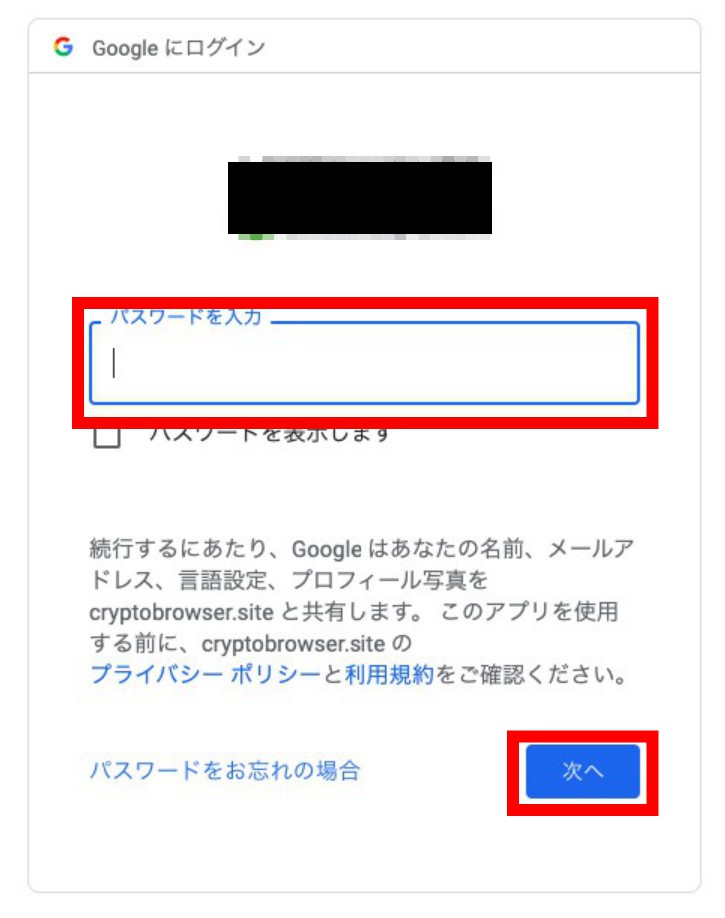 After this, you will be prompted to set up an authentication email, so enter an email address where you can receive emails (such as the Gmail account you just connected to) and press the button.
You will then receive an authentication email at the email address you have entered, so open the email and authenticate (click) to complete the registration.
This is all you need to do to complete the registration.
Actual usage
Once you have finished setting up your CryptoTab account, you will see the following screen.
The browser looks very similar to Google Chrome.
It is almost Chrome.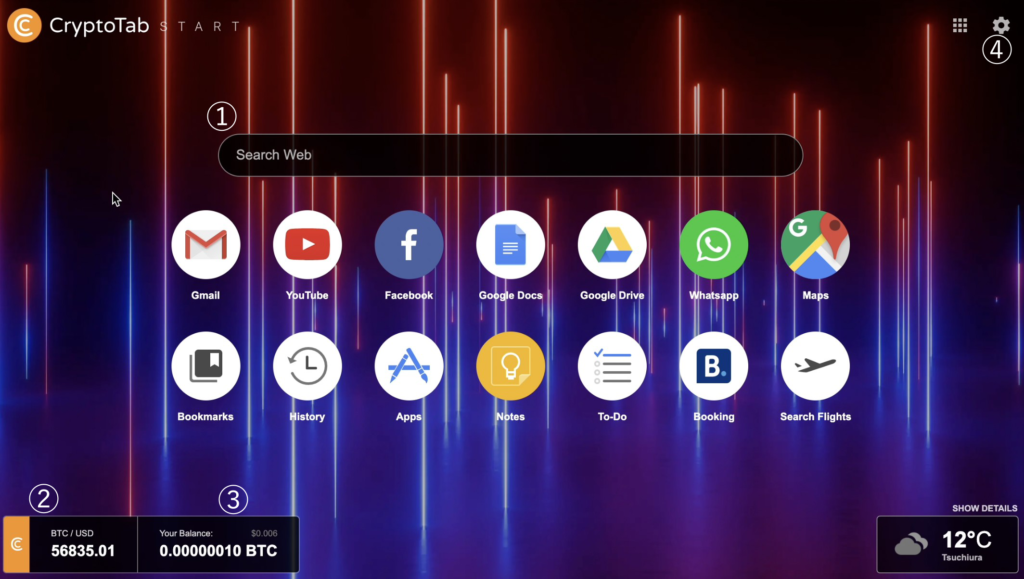 ①:Search bar
②:BTC price
③:Quantity of BTC you have
④:Menu
If you click on "Your Balance" in ③, you will see the following screen.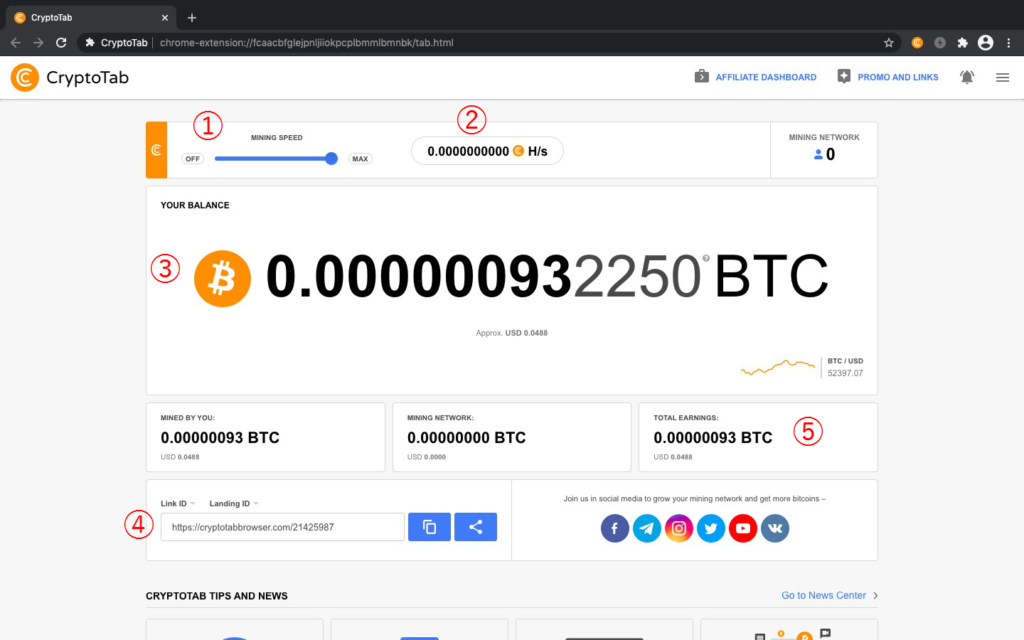 ①:This is the slide bar to start mining.
If you move it from OFF to the right even a little, mining will start.
You can adjust the setting from OFF to MAX. The closer to MAX, the higher the hash rate will be, but it will also increase the load on the CPU.
②:Hash rate is a number that indicates how much you can mine in one second.
③:Number of bitcoins you currently have.
④:Affiliate link.
This CryptoTab can also be used as an affiliate, and you can copy the URL of the affiliate link and use it.
Unlike other ASPs, this affiliate will earn more bitcoins based on the amount of mining done by the person who introduced them.
This is a waste of money if you don't become an affiliate.
How to withdraw
In order to withdraw bitcoins from CryptoTab, you will need a bitcoin address.
If you don't have one, please register with a virtual currency exchange to get an address.
The minimum withdrawal amount is set at a low 0.00001000 BTC, and there are no fees.
To make a withdrawal, first click on the menu in the upper right corner.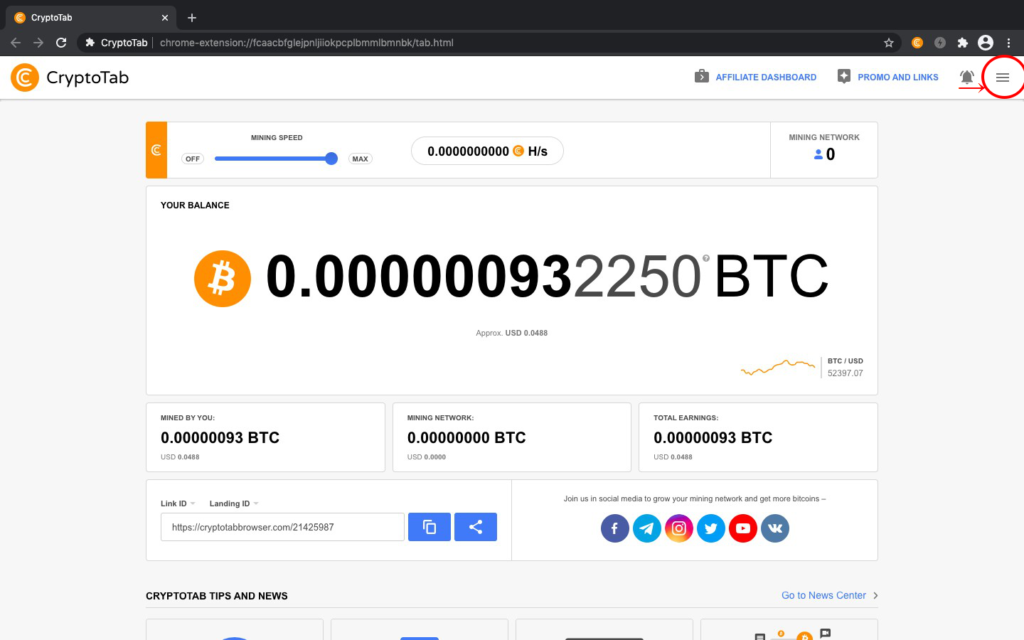 The menu will appear as shown below, and click on "WITHDRAW BTC" in the red box.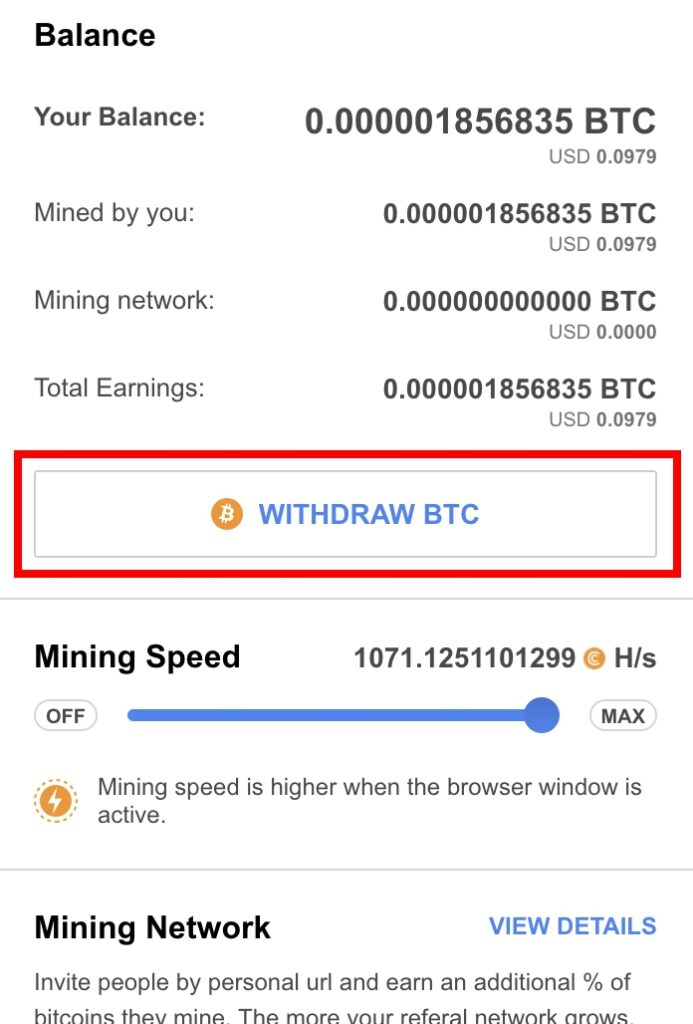 Enter the bitcoin address you want to send the money to and enter the quantity, or click on MAX to automatically enter all the quantities you have and determine the quantity.
Next, check the "I am not a robot" verification and click the WITHDRAW button to complete your withdrawal.
Current Mining Performance
I would like to report on how much I have actually been able to mine.
At first, it took about 5 minutes for the mining to start, and I thought it might have stopped, but it was mining fine.
I left it running for about half a day and earned 0.000001872019 BTC!

The Mac version seems to be running Intel via Rosetta2 instead of running M1 natively, so the mining efficiency was lower than the Intel model Mac

For example, if the price of 1 bitcoin is 6 million yen,  it would be worth about 11 yen.
I've also seen information that the hash rate of the Intel model of windows is about three times faster than the M1 chip, so the Intel model can earn more.
In addition, if the value of bitcoin rises, your earnings will also rise.
Summary
・It's easy and free to do browser mining.。
・Most PCs and smartphones can be used for mining.
・Withdrawals are easy with low minimum amounts.
・If you log in and mine with the same account, the hash rate will be added to your mining.
・There are continuous affiliate commissions.
I'm planning to continue mining with CryptoTab.
Let's try mining together!
If you want to affiliate with CryptoTab, I recommend blogging.
It's easy to compile information and you can also post your own achievements after setting up.
I found an article on how to start a blog using ConoHa WING, which is the same as mine, so why don't you start here?
ConoHa WING is easy to use and above all, cheap.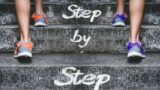 【10分でできる】ConoHa WINGでwordpressブログの始め方
こんな方におすすめの内容になっています ・収入を得られるブログをすぐにでも開設したい ・ブログを始めるに間違えないように設定したい ・あまりお金をかけずに始めたい ・時間をかけずにブログ開設をしたい