BINANCE is a virtual currency exchange platform established in China in 2017, and is one of the largest exchanges platform in the world.
It is one of the hottest exchanges in the world, attracting attention for the large number of virtual currencies it handles and its low fees.
However, Binance is an overseas exchange.
For this reason, people who have only used domestic exchanges may feel uneasy about its safety and other aspects.
In addition, Binance has been a victim of hacking in the past.
Therefore, I would like to explain the safety of Binance for those who want to use it to trade in the future.
Is the safety of Binance safe?

As I mentioned earlier, Binance is an overseas exchange, so I think there is a lot of anxiety, especially for people who are using an overseas exchange for the first time.
Moreover, Binance was the victim of a hack in May 2019.
7,000 BTC were illegally withdrawn, amounting to about 44 million yen worth of damage.
That's a huge amount of money…
It seems that hackers stole users' key information and withdrew 7,000 BTC in a single transaction.
The extent of the damage was only about 2% of Binance's bitcoin holdings and nothing more. But the possibility of my currency also being withdrawn by a third party scares me.
Another concern that I often hear is that China is involved.
The representative director of Binance, Mr. ChangPeng Zhao, is the founder of OKcoin, an exchange in China.
Binance requires a passport number for identity verification at the time of registration, and since that information will be passed on to China, some people think it may be dangerous.
What is everyone's assessment of the safety of Binance?

Binance has been a victim of hacking, and now we know that China is also involved.
So, can we still say that Binance is unsafe?
If you look at the voices and evaluations on the Internet, they're actually not so bad.
First of all, I mentioned earlier that Binance was a victim of hacking.
But Binance's response to the hacking incident was quick and precise.
After the hack, Binance immediately stopped all withdrawals and announced that they would also compensate for the bitcoins lost due to the hack.
Binance then immediately implemented a variety of measures to improve its security, including hiring the industry's top security team.
Many people were impressed by this speedy response.
Soon after, the use of deposits and withdrawals was resumed within the same month.
Although it was hacked once, it is now regarded as a rather safe system due to the various security measures that were taken.
By the way, you can read some good reviews regarding Binance's safety on the following website.
You can see the opinions of real users, which I think is very helpful.
Please take a peek.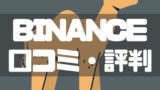 BINANCE(バイナンス)の評判は?本当のところどうなの?メリット・デメリットを辛口調査
BINANCEは世界的に評判が高く、日本人ユーザーの間でも良い口コミが目立ちます。金融庁による規制には注意が必要ですが、初心者でも低リスクで稼ぎやすいというメリットもあるため、上手に活用していくのがおすすめです。
Summary

So that is all for my explanation of Binance's safety.
Although there may be some worrisome information out there, such as the fact that the company has been hacked in the past, or that China is involved, I hope you have understood that it is rather safe.
I hope this will be helpful to those who are thinking of using Binance.
You can also read about Binance in this article, so please read it as well.